Click here to download this information as a PDF.
If you arrive into the South Terminal at London Gatwick Airport then the following details will help you to locate the bus stop for our free shuttle bus.  If you arrive into UK Arrivals then please follow an identical sign to the one over Boots which will direct you to the exit door next to the Bureau de Change.
When you emerge into the Arrivals Hall you will see Costa Coffee in front of you.   Turn to your right to face Boots Pharmacy (Costa Coffee will now be behind you) and you will see the view below.   Above Boots there is a sign directing you to the Exit, Car Rental and Bus/Coaches.  Walk towards Boots (30m), bearing left to follow that Exit sign.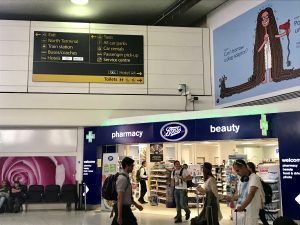 You will then see a large Bureau de Change.  On the left is the entrance to the railway station and on the right are the exits to Car Rental and Buses and Coaches.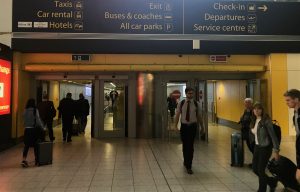 Heading to the right of the Bureau de Change, take the left-hand door, walking under the words Taxis, Car Rental and Hotels.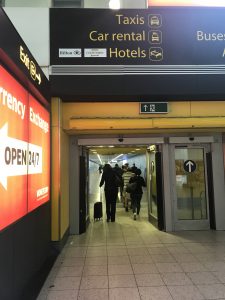 At the end of the walkway (60m), turn right onto the open concourse area.   There are lifts on your right hand side after WH Smiths.  Go to any lift.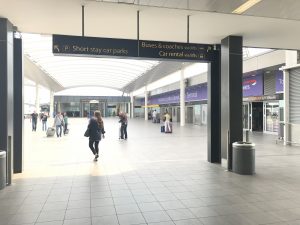 Take any lift down to level 0.  In the lift this is signposted Buses/coaches, Car Rental and Hotels.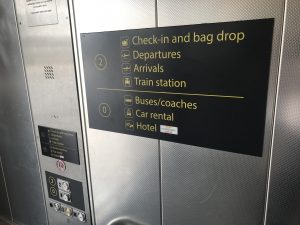 When you arrive on level 0, exit the lift and follow the signs for Buses and Coaches.  Green Motion use bus stop 9.  You are now about 40m away from there.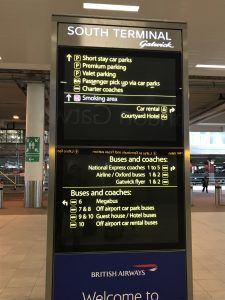 Bus stop 9 is next to a trolley park.   The bus stop number are shown on the large concrete pillars.   Our bus service operates twice an hour in the off peak periods and 4 times an hour during the peak periods.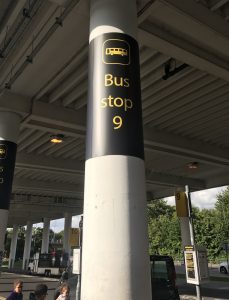 The free Green Motion shuttle service runs continuously from 0600 to 2100 daily.  We aim to visit the South Terminal at 10 minutes and 40 minutes past the hour and the North Terminal at 20 minutes and 50 minutes past the hour.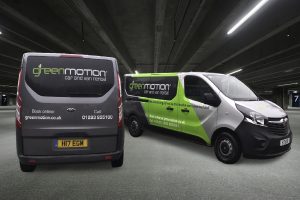 At peak times we operate every 15 minutes so we will be aiming to also be at the South Terminal at 25 minutes and 55 minutes past the hour and the North Terminal at 5 minutes and 35 minutes past the hour.
Is there anything missing from this page?   If you have any suggestions then we would be very pleased to hear from you.  Please use our contact page to make any suggestions.